Description
Highlight
Straps on pedals to keep your feet fixed
Non-slip feet ensure the stability while using
Lightweight and portable design for easy carry * Easy to assemble, it only takes a few minutes to finish
Built-in digital LCD monitor measures automatically Time, Distance, Count, Total count and Calories * Place it on a table for toning and strengthening your upper arms, or put it on the floor for a lower-body workout
Resistance knob features variable tension for different physical condition, which helps you to adjust a suitable tension
Product Description
This mini exercise bike helps you save time and space when doing exercise. Use it when reading a book, watching TV or playing a mobile phone, you can totally free your hands and enjoy the exercise.It is easy to store as well, you can put in under the table then use it while working.
Features:
* Straps on pedals to keep your feet fixed
* Non-slip feet ensure the stability while using
* Lightweight and portable design for easy carry
* Easy to assemble, it only takes a few minutes to finish
* Built-in digital LCD monitor measures automatically Time, Distance, Count, Total count and Calories
* Place it on a table for toning and strengthening your upper arms, or put it on the floor for a lower-body workout
* Resistance knob features variable tension for different physical condition, which helps you to adjust a suitable tension
Specification:
Color: Black
Dimensions: 42cm/ 16.54" x 24cm/ 9.45" x 30cm/ 11.81" ( L x W x H)
Package Includes:
1x Mini exercise bike
1x Wrench
1x Screwdriver
1x LCD monitor with battery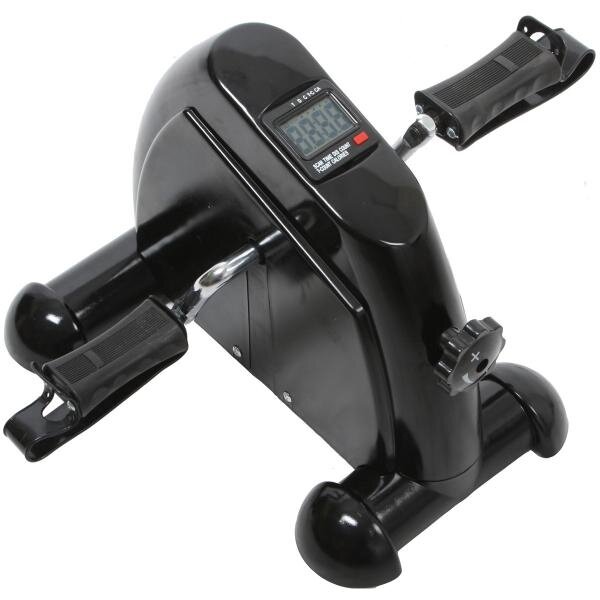 Our increasingly busy lives, our sedentary lifestyles and even the bad British weather prevent many of us taking the medically-recommended amount of exercise – 30 minutes of temperature-raising, heart-rate increasing activity, at least 5 times a week. Also as more of us live into old age, medical experts say that we need to keep active to ensure that we stay healthier for longer, both physically and mentally.
Being over-weight and lack of sufficient physical activity are major causes of:
Angina
Heart-disease
Stroke
Diabetes
Cancer
Stress
Depression
Dementia in old age
Mini Exercise Bikes – Your Solution
Mini exercise bikes are a wonderfully simple and convenient solution to this problem. Just like a large stationary exercise bike that you would find at a gym, they provide a light cardiovascular work-out and help you maintain your muscle strength. They can help you to:
Keep fit
Lose weight
Reduce your cholesterol
Lower your blood pressure
Tone your muscles
Maintain your joint flexibility
Recuperate after surgery
Convenient and Time-Saving
Keeping fit could not be any easier. Mini Exercise bikes are:
Small: They take up very little space and can easily be stored away out of sight
Lightweight: They are easy to move around, even by someone elderly.
Convenient: They enable you to exercise whenever you want in the comfort, privacy and safety of your own home.
Affordable: They provide the same benefits of large stationary exercise bikes at a fraction of the cost and will save you hundreds of pounds on gym fees.
Time-Saving: They enable you to exercise while doing other things e.g. watching TV, listening to the radio, reading or surfing the internet.
Flexible: They can be used at home or work (i.e. under your desk)
Versatile: They can be used to exercise both your upper and lower body.
Effective: They enable you to maintain a consistent exercise regime, regardless of the weather outside.
In this way they are able to help everyone in Britain become just a little bit healthier.
Magnetic Belt resistance mini cycle, suitable for leg and hand exercise
• Portable and easy storage, suitable for home use
• Multi resistance levels
• LCD display with timer, speed, distance, and calorie counter
Reviews (0)
view all
back
What's in the box
1x Mini exercise bike 1x Wrench 1x Screwdriver 1x LCD monitor